---
Preben Aavitsland
Agenda Hub Node
Day Chart Memes
*
Impact Norway
Mundane Wheels
Synastry, Composite
Moon uncertain
Link
–
Major
Known data
–––
Base
Composite + Transits 2021
–––
Pushers and Clowns Series
Pending
---
Geir Bukholm
Agenda Hub Node
Day Chart Memes
*
Impact Norway
Mundane Wheels
Synastry, Composite
–
Link
–
Major
–
–––
Pushers and Clowns Series
Pending
–––
---
Mads (Fredrik) Gilbert
Agenda Hub Node
Day Chart Memes
*
Impact Norway
Mundane Wheels
Synastry, Composite
Moon uncertain
Link
–
Major
Known data
–––
Base
Composite + Transits 2021
–––
Pushers and Clowns Series
Pending
---
Bjørn Guldvog
Agenda Hub Node
Day Chart Memes
*
Impact Norway
Mundane Wheels
Synastry, Composite
Moon uncertain
Link
–
Major
Known data
–––
Base
Composite + Transits 2021
–––
Pushers and Clowns Series
#-Data=Radix=Natal=Day
#-Agenda-Pin=Yes
Pending
–––
---
Bent Høie
Agenda Hub Node
Day Chart Memes
*
Impact Norway
Mundane Wheels
Synastry, Composite
Moon uncertain
Link*
–
Major
Known data
–––
Base
Composite + Transits 2021
–––
Pushers and Clowns Series
#-Data=Radix=Natal=Day
#-Agenda-Pin=Yes
Pending
---
Raymond Johansen
Agenda Hub Node
Day Chart Memes
*
Impact Norway
Mundane Wheels
Synastry, Composite
Moon uncertain
Link*
–
Major
Known data
–––
Base
Composite + Transits 2021
–––
Pushers and Clowns Series
Pending
---
Steinar Madsen
Agenda Hub Node
Day Chart Memes
*
Impact Norway
Mundane Wheels
Synastry, Composite
Moon uncertain
Link
–
Major
Known data
–––
Base
Composite + Transits 2021
–––
Pushers and Clowns Series
Pending
---
Guri Melby
Agenda Hub Node
Day Chart Memes
*
Impact Norway
Mundane Wheels
Synastry, Composite
Moon uncertain
Link
–
Major
Known data
–––
Base
Composite + Transits 2021
–––
Pushers and Clowns Series
Pending
---
Monica Mæland
Agenda Hub Node
Day Chart Memes
*
Impact Norway
Mundane Wheels
Synastry, Composite
Moon uncertain
Link*
–
Major
Known data
–––
Base
Composite + Transits 2021
–––
Pushers and Clowns Series
Pending
---
Espen Rostrup Nakstad
Agenda Hub Node
Day Chart Memes
*
Impact Norway
Mundane Wheels
Synastry, Composite
Moon uncertain
Link*
–
Major
Known data
–––
Base
Composite + Transits 2021
–––
Pushers and Clowns Series
Pending
---
Erna Solberg
Agenda Hub Node
Day Chart Memes
*
Impact Norway
Mundane Wheels
Synastry, Composite
Moon uncertain
Link*
–
Major
Known data
–––
Base
Composite + Transits 2021
–––
Pushers and Clowns Series
Pending
---
Camilla Stoltenberg
Agenda Hub Node
Day Chart Memes
*
Impact Norway
Mundane Wheels
Synastry, Composite
Moon uncertain
Link
–
Major
Known data
–––
Base
Composite + Transits 2021
–––
Pushers and Clowns Series
Pending
---
Line Vold
Agenda Hub Node
Day Chart Memes
*
Impact Norway
Mundane Wheels
Synastry, Composite
–
Link
–
Major
–
–––
Pushers and Clowns Series
Pending
---
Akroma.no
Mundane Context
Day Chart Memes
*
Impact Norway
Combination Scrutiny
Synastry, Composite
Moon uncertain
Link
―
Major
Known data
–––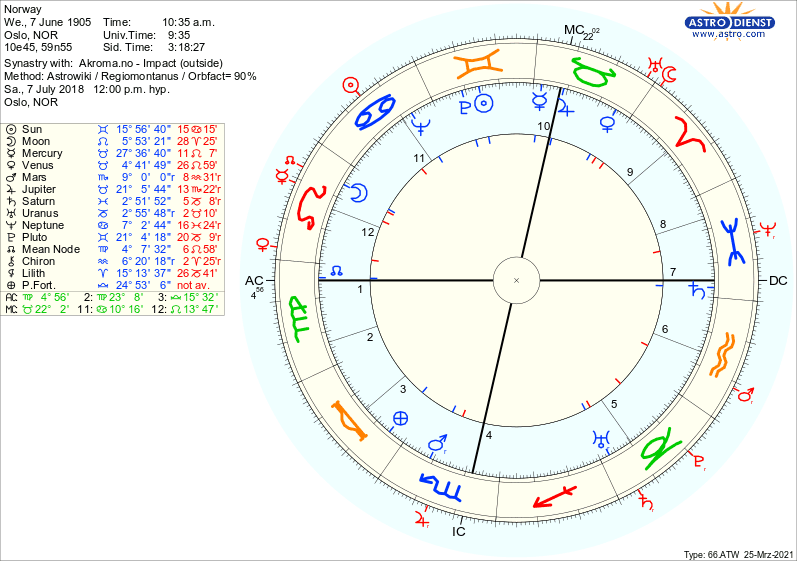 Base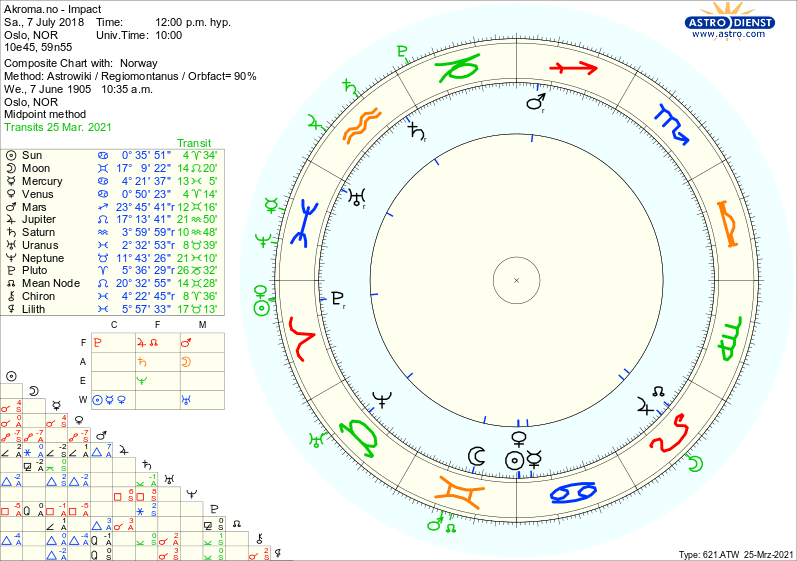 Composite + Transits 2021
–––
Mavericks Series
An Independent
Pending
---
Document.no
Mundane Context
Day Chart Memes
*
Impact Norway
Combination Scrutiny
Synastry, Composite
Moon uncertain
Link
―
Major
Known data
–––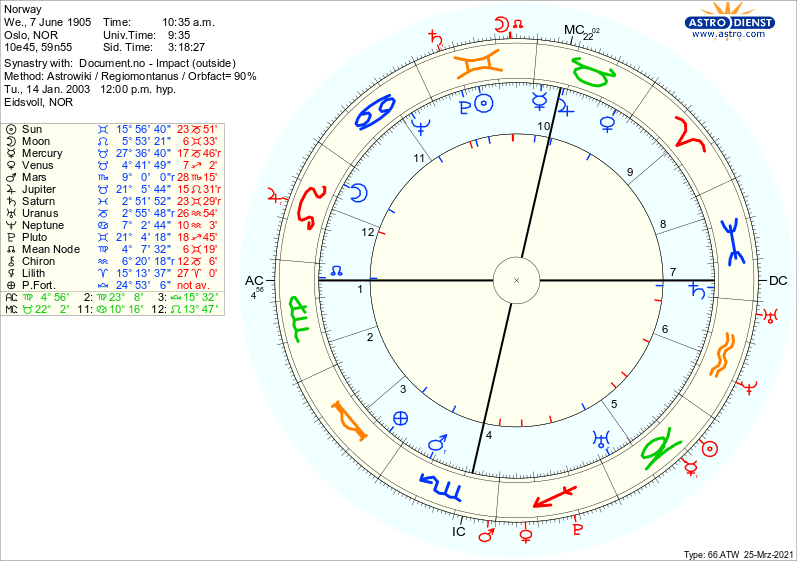 Base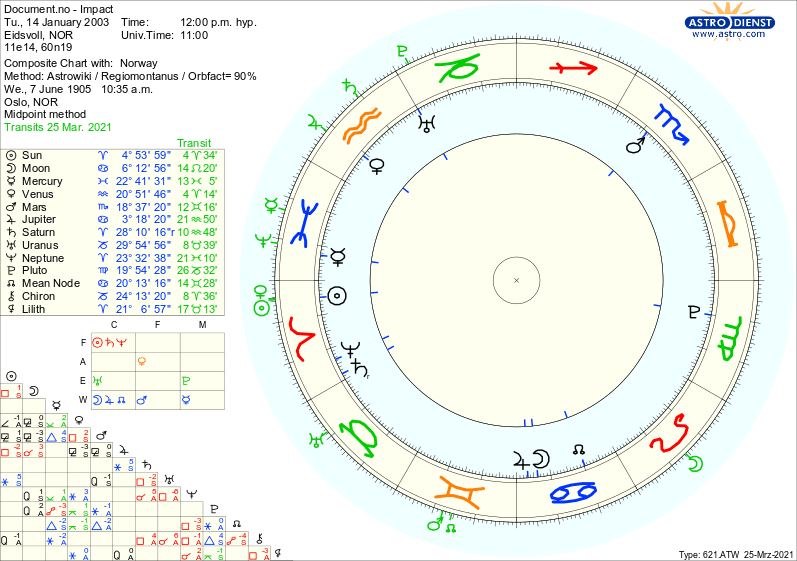 Composite + Transits 2021
–––
Mavericks Series
Objective Bias
–––
---
Faktisk.no
Agenda Hub Node
Day Chart Memes
*
Impact Norway
Mundane Wheels
Synastry, Composite
Moon uncertain
Link
–
Major
Known data
–––
Base
Composite + Transits 2021
–––
Pushers and Clowns Series
Pending
---
John (Hilmer Berge) Færseth
Cultural, Mundane
Day Chart Memes
*
Profiles Norway
Combination Impact
Synastry, Composite
Moon uncertain
Link
–
Major
Known data
–––
Base
Composite + Transits 2021
–––
Pushers and Clowns Series
Pending
---
Lars Gule
Cultural, Mundane
Day Chart Memes
*
Profiles Norway
Combination Impact
Synastry, Composite
Moon uncertain
Link
–
Major
Known data
–––
Base
Composite + Transits 2021
–––
Pushers and Clowns Series
Pending
---
Hans (Jørgen) Lysglimt Johansen
Cultural, Mundane
Day Chart Memes
*
Profiles Norway
Combination Impact
Synastry, Composite
Moon uncertain
Link*
―
Major
Known data
–––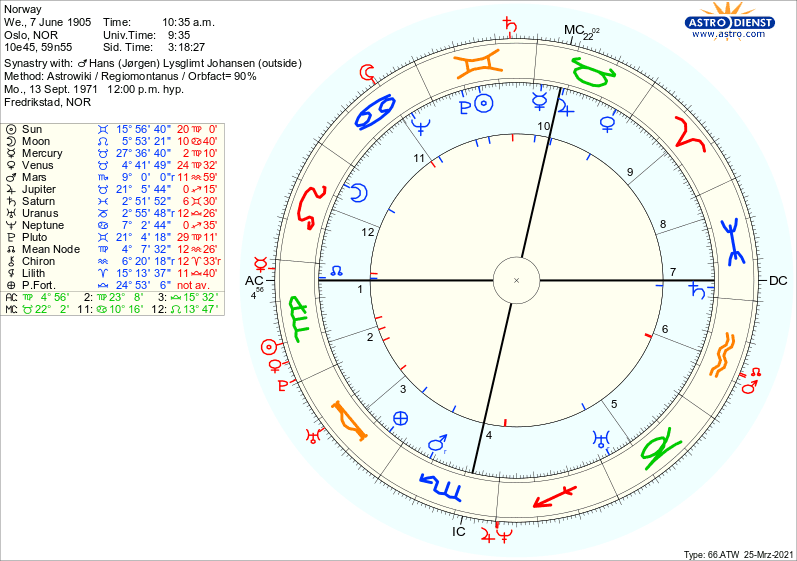 Base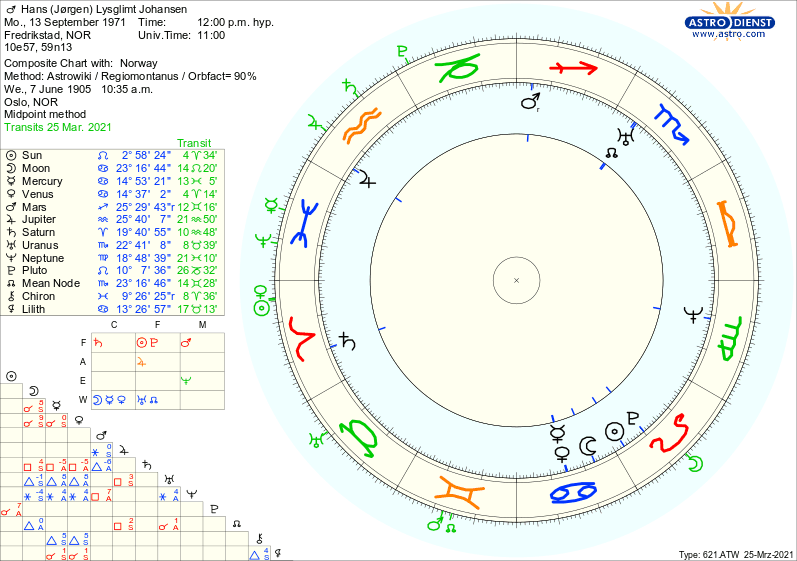 Composite + Transits 2021
–––
Mavericks Series
Pending
---
Anine Kierulf
Cultural, Mundane
Day Chart Memes
*
Profiles Norway
Combination Impact
Synastry, Composite
Moon uncertain
Link*
–
Major
Known data
–––
Base
Composite + Transits 2021
–––
Analyticals Series
Pending
---
Helge Lurås
Mundane Context
Day Chart Memes
*
Impact Norway
Combination Scrutiny
Synastry, Composite
Moon uncertain
Link
–
Major
Known data
–––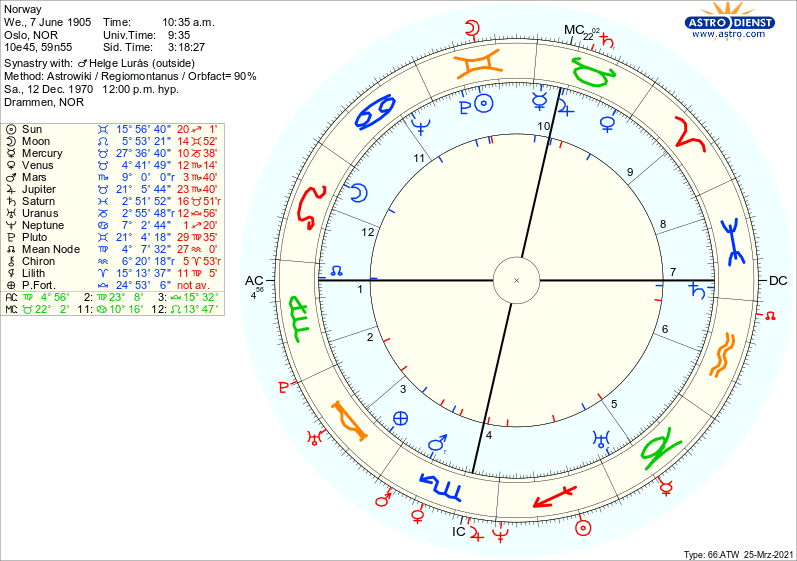 Base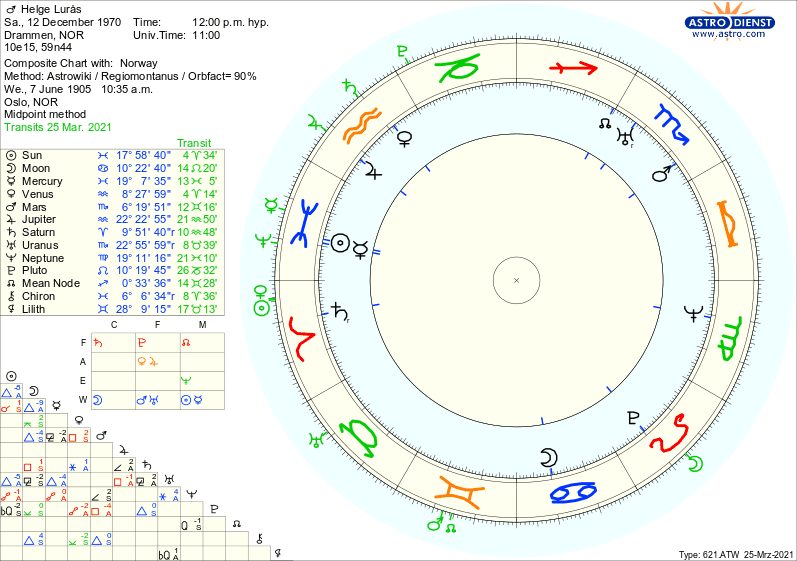 Composite + Transits 2021
–––
Mavericks Series
An Editor
–––
---
Janne Haaland Matlary
Cultural, Mundane
Day Chart Memes
*
Profiles Norway
Combination Impact
Synastry, Composite
Moon uncertain
Link*
–
Major
Known data
–––
Base
Composite + Transits 2021
–––
Analyticals Series
Pending
---
Resett.no
Mundane Context
Day Chart Memes
*
Impact Norway
Combination Scrutiny
Synastry, Composite
Defined
Link
–
Major
Known data
–––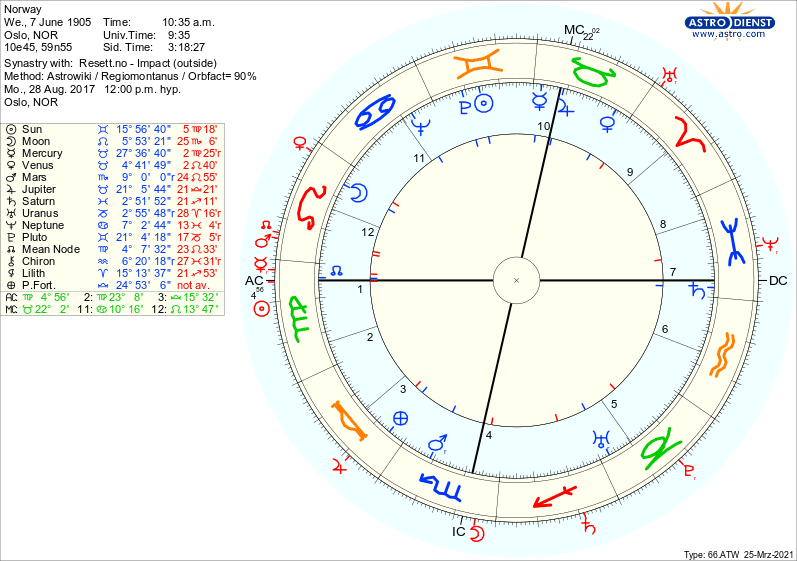 Base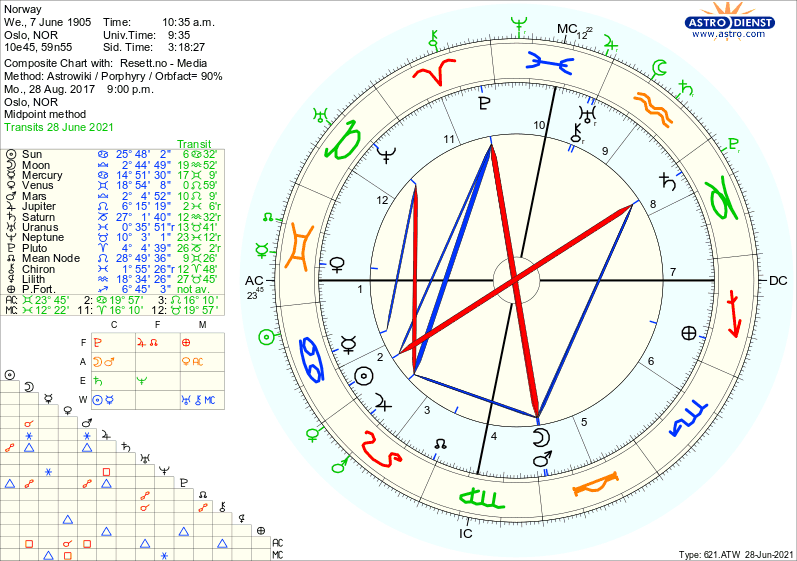 Defined Composite + Transits 2021
–––
Mavericks Series
Controlled
–––
---
Rights.no
Impact Norway
Mundane Combination
Synastry, Composite
–
Link
–
Major
–
*
–––
Mavericks Series
Pending
–––
---
Hans Rustad
Mundane Context
Day Chart Memes
*
Impact Norway
Combination Scrutiny
Synastry, Composite
Moon uncertain
Link
–
Major
Known data
–––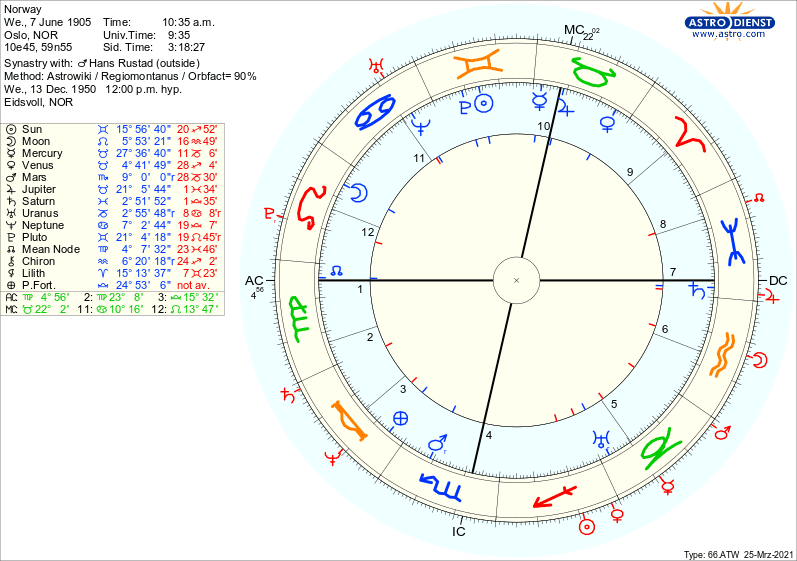 Base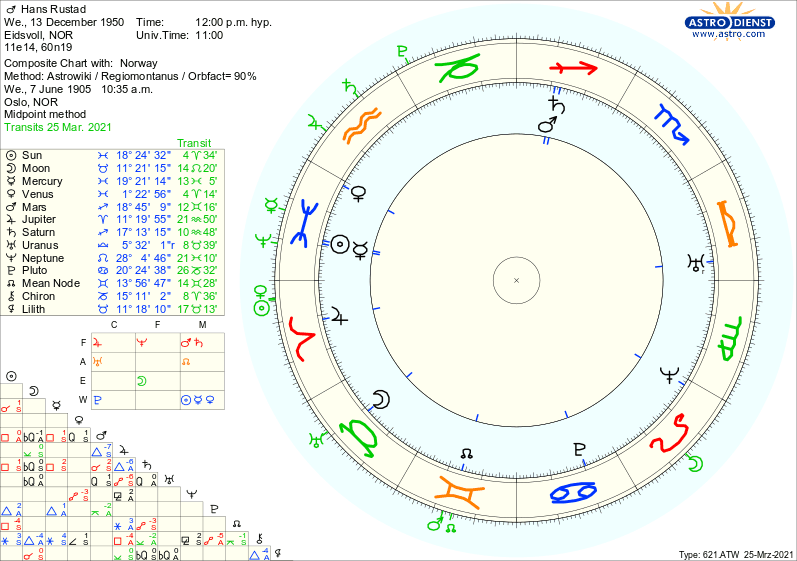 Composite + Transits 2021
–––
Mavericks Series
A Media Personality
Pending
---
Mari Skurdal
Mundane Context
Day Chart Memes
*
Impact Norway
Combination Scrutiny
Synastry, Composite
Moon uncertain
Link
–
Major
Known data
–––
Base
Composite + Transits 2021
–––
Pending
---
Steigan.no
Impact Norway
Mundane Combination
Synastry, Composite
–
Link
–
Major
–
*
–––
Mavericks Series
Pending
–––
---
Pål Steigan
Mundane Context
Day Chart Memes
*
Impact Norway
Combination Scrutiny
Synastry, Composite
Moon uncertain
Link
–
Major
Known data
–––
Base
Composite + Transits 2021
–––
Mavericks Series
Pending
---
Hege Storhaug
Cultural, Mundane
Day Chart Memes
*
Profiles Norway
Combination Impact
Synastry, Composite
Moon uncertain
Link
–
Major
Known data
–––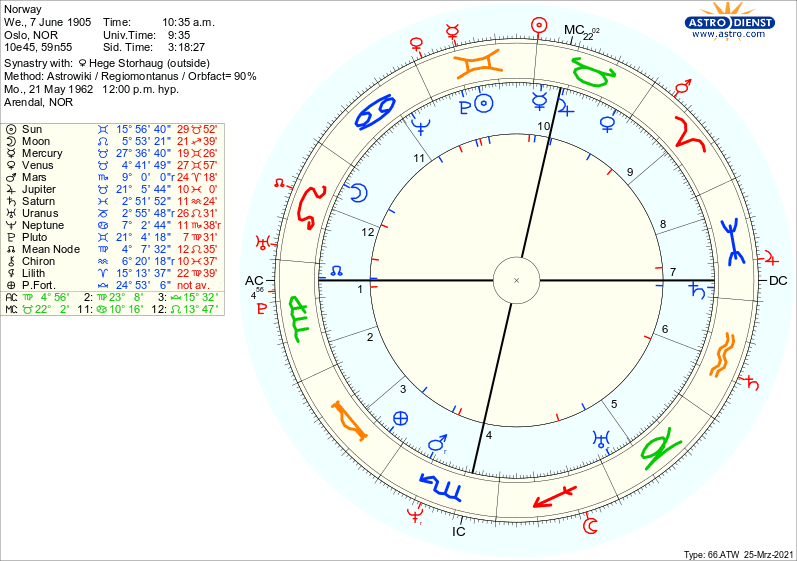 Base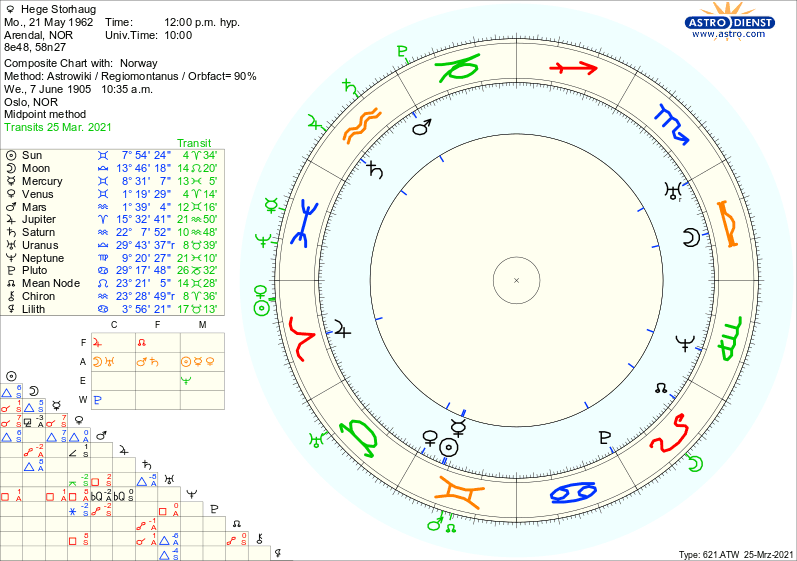 Composite + Transits 2021
–––
Mavericks Series
Myopia?
Pending
---
Eivind Trædal
Cultural, Mundane
Day Chart Memes
*
Profiles Norway
Combination Impact
Synastry, Composite
Moon uncertain
Link
–
Major
Known data
–––
Base
Composite + Transits 2021
–––
Mavericks Series
Pending
---
Lan Marie Nguyen Berg
Mundane Context
Day Chart Memes
*
Impact Norway
Combination Scrutiny
Synastry, Composite
Moon uncertain
Link
–
Major
Known data
–––
Base
Composite + Transits 2021
–––
Mavericks Series
Limbo
–––
---
ABB – Anders Behring Breivik
Cultural, Mundane
Day Chart Memes
*
Profiles Norway
Combination Impact
Synastry, Composite
Defined
Link
―
Major
Known data
–––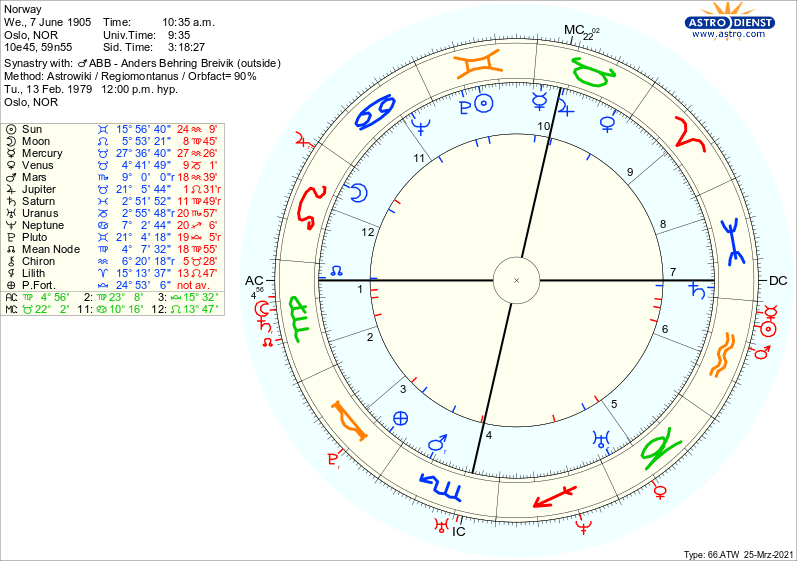 Base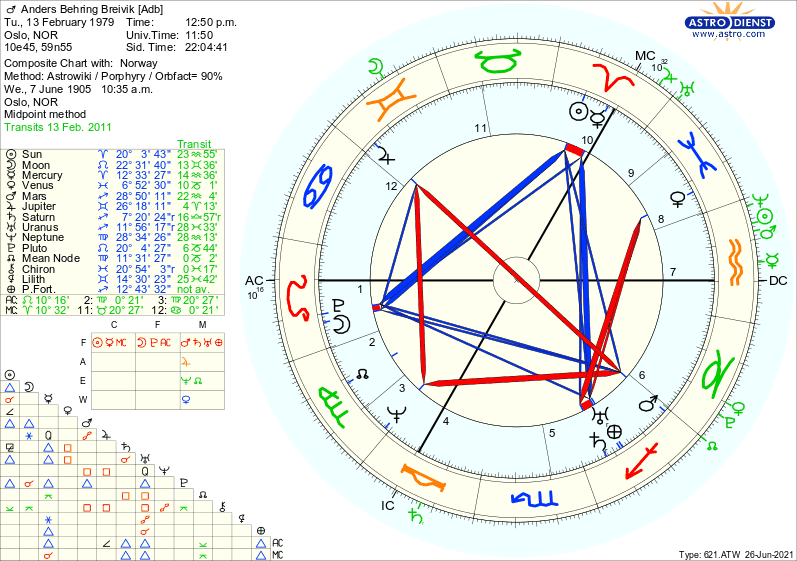 Defined Composite + Transits 2011
–––
A Terrorist
Pending
–
July 22
–––
---
CEPI
Agenda Hub Node
Day Chart Memes
*
Impact Norway
Mundane Wheels
Synastry, Composite
Moon and Sun uncertain
Link · Link
–
Major
Known data
–––
Base
Composite + Transits 2021
–––
Pushers and Clowns Series
Pending
–––
---
GAVI
Agenda Hub Node
Day Chart Memes
*
Impact Norway
Mundane Wheels
Synastry, Composite
Moon uncertain
Link
–
Major
Known data
–––
Base
Composite + Transits 2021
–––
Pushers and Clowns Series
Pending
---
Legemiddelverket | 2001
Agenda Hub Node
Day Chart Memes
*
Impact Norway
Mundane Wheels
*
Statens legemiddelverk
Synastry, Composite
Defined 12h/00h
Link · Link
–
Major
Known data
–––
Base
Composite + Transits 2021
–––
Pushers and Clowns Series
Legemiddelverket | 1. januar 2001
Pending
–––
---
Ursula (Gertrud) von der Leyen
Agenda Hub Node
Day Chart Memes
*
Impact Norway
Mundane Wheels
Synastry, Composite
Moon uncertain
Link*
–
Major
Known data
–––
Base
Base Synastry & Composite Norway, Transits 2021
–––
Pushers and Clowns Series
Pending
---
NRK.no
Agenda Hub Node
Day Chart Memes
*
Impact Norway
Mundane Wheels
*
The Mandatory NRK
Radix, Secondary
Natal
Link
–
Major
Known data
–––
Radix Dispositor Tree
Introduction Radix
2021 Secondary + Transits
–––
Pushers and Clowns Series
Pending
–
Norwegian State Media
Propaganda
–––
---
Klaus M. Schwab
Agenda Hub Node
Day Chart Memes
*
Impact Norway
Mundane Wheels
Radix, Secondary
Solar Return, Harmonics
Moon uncertain
Link · Link
–
Major
Known data
–––
Base
Secondary 2021
Solar Return 2021
Base Harmonics
Base Synastry & Composite Norway, Transits 2021
–––
Pushers and Clowns Series
Global Inner Circles
Pending
–––
---
WHO
Agenda Hub Node
Day Chart Memes
*
Impact Norway
Mundane Wheels
*
World Health Organization
Synastry, Composite
Defined 12h/0h
Link
–
Major
Known data
–––
Pushers and Clowns Series
Pending

* Michael-J-Ryan
* Tedros-Adhanom-Ghebreyesus
–––
---
World Economic Forum
Agenda Hub Node
Day Chart Memes
*
Impact Norway
Mundane Wheels
Synastry, Composite
–
Link · Link
–
Major
–
–––
Pushers and Clowns Series
Pending
–––
---
Naomi R. Wolf
Sketches:Impact
Mundane Combination
Day, Natal, Meme
Moon uncertain
(In Config)
Link*
–
Major
Pending data
*
–––
Analyticals Series
Preliminary
-D- Noon .sol data in Folder
-L- [/2016/04/0_naomi_wolf__dispositor-chain-draft.png (Dispositor Chain)]
One does not need much more to see that the basics of astrology are valid. We talk about potential on diverse levels, together with traits, so although others are born (any place) on the same day, each day chart must be understood individually.
I have briefly played dynamically with how the Moon moves during the day, and unless she is born (close after Full Moon) in the early a.m. hours, and even stronger around 3 p.m. and after, we have a strong Moon-Uranus(Pluto)-Jupiter T-square. Moon may be Taurus or Gemini (what would you've guessed?). The Mars square to the stellium in Scorpio is evident and goes without comment. Move this chart dynamically, and besides strong T-squares forming, you will see a constant Mars square focus (with Venus) in all her formative years, up to about 23 years old. The [/2016/04/0_naomi_wolf__dispositor-chain-draft.png (r.Dispositor Chain)] is (regardless of the Moon) dominated by Mercury & Pluto[Mars].
---
Donald J. Trump
Sketches:Impact
Mundane Combination
Natal, Meme
Defined
(Radix)
Link*
–
Major
Known data
*
–––
[Pending Images]
–––
Mavericks Series
Preliminary
-D- Cf. Folder
-L- (Charts, Dispositor Chain, Collection)
There is of course much to be said about this chart, which is quite striking, and plenty of material exists. Take a brief look at his Radix (Rodden AA) and think Configuration. We have seen the circus around Donald Trump actively performing, starting in (the latter part of) 2015.
Then we found T.Uranus in Aries, at a ReliefPoint to his strong opposition Gemini-Sagittarius, which also involves r.Jupiter in Libra at another ReliefPoint – and r.Mars in Leo (wider orb). He took the leap for President when his tense energies were flowing less strained, though still confrontational.
Such 'coincidences' (planetary positions) give us the insight that astrology works, though we don't really know now why and how (operational principles), and make us continue with confidence in our craft.
As always, when I start writing, I'm drawn into the chart, and I will here delve into a further analysis (with Dynamics). I will successively revert to it as time allows. And yes, it's time to understand more of the machinations behind presidential campaigns.
---
Barack H. Obama – A POTUS Meme

Natal, Mundane
Meme Chart
―
*
–
It is somewhat surprising that the astrological community in general seems to be unaware that there are well-documented and good reasons to doubt the authenticity of what is commonly referred to as Barack H. Obama's birth certificate. Also Astro-Databank at Astrodienst adopts the gamut. The whole charade around his background is riddled with inconsistencies. It must be up to the reader whether to discern and invest effort in research.
As yet, we do not have the information necessary to with confidence erect the Radix of Barack H. Obama. Therefore, an astrological interpretation cannot detail his personal traits and potential in a psychological sense.
However, at the very core of astrology, we do have a valid chart – namely the established perception of a birth chart. We have a kaleidoscopic meme that can be considered in collective mundane and symbolic terms.
http://www.astro.com/astro-databank/Obama,_Barack
The nature of this chart type implies that it is self-referential. In this case, with the deception involved, we would expect a prominent Neptune – and yes, it is culminating. There is a telling applicative r.(Mercury sq Neptune), and the applicative r.(Venus trine Neptune) adds to the ease of purveying an illusion – although it is not so easy after all with Neptune in T-square, and separative (retrograde) Jupiter approaching Saturn.
The configuration is strong and integrated – all the main r.factors are In Config; none are in isolation. There are angularities. The Moon is strong by orb and angularity. There is complexity in the aspect pattern. As always, one might argue orbs and directional motion, but I will say that the r.(Mercury conj Sun) is holding that part of the picture together and yields orb allowance to the T-square.
There is a clear emphasis of the western half of this chart, and there are symmetries and midpoint trees. Sun-(Venus/Mars) is exact. A Janus face?
Mars is the only 'personal' planet above the horizon, in close applicative trine with r.(Saturn conj Jupiter). The r.(Sun sq Neptune) is separative, which makes it hard in the long run to uphold & deceive. On an interpretational level, this is striking. The Sun by orb has no other main aspect! Where is this man, this POTUS? The theme is Disconnectedness – a gap between apparition and consequence. What is the intention? Who is in charge?
The r.Dispositor Chain has two parts, split between and dominated by domicile Sun and by domicile Saturn. Saturn is separated from the rest, alone. Is there an integrated structure, a constructive discipline? The chain from Sun has two pathways: One string ends in Jupiteresqueness through Uranus (which may entail 'change' – and unaccountability); and the other string is through Mercury, with its Rhetoric. The aspect triangle Moon-Mercury-Jupiter is important here, as it illustrates the initial popular appeal (the Moon is at the ReliefPoint to the opposition), but again, Saturn is also there. Does it last? Where is the substance? I think that Mercury's three substrings are self-explanatory in this context – again we see Venus/Mars duality (Venus through the Moon, popular appeal) – and the potent Pluto, though generational, ends up with Neptune. It is notable that the Dispositors in a separate way are rooted in Center and Periphery, heart and skin, Sun and Saturn, and that the latter is stale, lacking a string of expression. (Mars: Yes, we can.) (Neptune: Hope, Something to believe in.)
The Nobel Peace Prize finally lost its credibility with Barack H. Obama, notwithstanding some other laureates. Besides, I believe that a man with real integrity in that situation would have said 'thanks, but no thanks'.
The above analysis is not meant to be slanted. This is not a nativity! The geometrical figure is rich and full of possibilities. For now, I have looked at hope and reality. And one certainly does not recognize the young presidential candidate and his promises.
—
Vocational Meme Chart
Barack H. Obama
Radix-Meme, Major
—
---
Bjørnar Moxnes
Mundane Context
Day Chart Memes
*
Impact Norway
Combination Scrutiny
Synastry, Composite
Moon uncertain
Link*
–
Major
Known data
–––
Base
Composite + Transits 2021
–––
Pending
---
Helsedirektoratet | 2008
Agenda Hub Node
Day Chart Memes
*
Impact Norway
Mundane Wheels
Synastry, Composite
Defined 12h/0h
Link
–
Major
Known data
–––
Base
Composite + Transits 2021
–––
Pushers and Clowns Series
Helsedirektoratet | 1. april 2008
Pending
–––
---
FHI | NIPH | 2002
Agenda Hub Node
Day Chart Memes
*
Impact Norway
Mundane Wheels
*
Folkehelseinstituttet
Synastry, Composite
Defined 12h/0h
Link
–
Major
Known data
–––
–––
Pushers and Clowns Series
Folkehelseinstituttet | 1. januar 2002
Pending
–––
---
Fjordman
Cultural, Mundane
Day Chart Memes
*
Profiles Norway
Peder Are Nøstvold Jensen
Combination Impact
Synastry, Composite
Moon uncertain
Link
–
Major
Known data
–––
Base
Composite + Transits 2021
–––
Analyticals Series
A Writer
Fjordman became one of Norway's foremost 'public enemies' in 2011, and perhaps we would have expected a very dramatic Static-Dynamical Radix-Secondary situation. However, we must remember that up till then, in this context, he was a writer, a blogger, and the perceived association with Mr. Breivik was none of his fault, and it was, unsurprisingly with MSM, not real. As astrologers, we regard charts as themes, or memes.
Many tend to think that populations when given a choice follow a natural course, like water, albeit with some obstacles. Fjordman's topics may provoke some, who generally without exception see it as an enrichment with many cultures in a society. Overall, I find that he shows valid points, both now and historically, although advantages also are implied. The reptilian-brained reactions he gets in the public 'discussion' are not much more than pounding your opponent with a club, aroused by instincts. When it comes to arguments, I think Fjordman may have strong cards most of the time, granted that there are some critics well worth pondering. Unsure people with flock mentality are not very interesting or relevant in this regard.
Anyone with sound curiosity here has a vast ocean of text to peruse, if one so wishes. I find it striking that a person of Fjordman's stature so easily takes the official narrative of '911' at face value, and also the official story of Osama bin Laden. Only a little cursory reading shows beyond doubt that these stories cannot be entirely true. Yes, it seems peculiar, and to me at least this casts a shadow over his project.
The Moon aspects are in focus on this scene. Moon-Saturn is isolated in the Radix Dispositor Tree, which is trident. The Mercury chain, with Sun Gemini, through creative Venus, is central and dominant. The Mars-Jupiter impulse expansion may lead to unchartered waters through Neptune, leading to insight.
Radix yields no close oppositions In Config. The couple to Neptune can be justified, but with width and separation (Mercury is SD June 23 at 15 Gemini). Progressions yield many. As always, retrogradation is understood through time projection.
More | Pending edit
–––
---
Haakon Magnus
Mundane Context
Day Chart Memes
*
Impact Norway
Combination Scrutiny
Synastry, Composite
Defined
Link*
–
Major
Known data
–––
Base
Composite + Transits 2021
–––
Pending
–
#-Data=Radix=Natal=Day
#-Agenda-Pin=Yes
–––
---
Harald V
Mundane Context
Day Chart Memes
*
Impact Norway
Combination Scrutiny
Synastry, Composite
Defined
Link*
–
Major
Known data
–––
Base
Composite + Transits 2021
–––
Pending
–
#-Data=Radix=Natal=Day
–––
---
Thor Gjermund Eriksen
Agenda Hub Node
Day Chart Memes
*
Impact Norway
Mundane Wheels
Synastry, Composite
Moon uncertain
Link
–
Major
Known data
–––
Base
Composite + Transits 2021
–––
Pushers and Clowns Series
Pending
–––
---
Jens Stoltenberg
Agenda Hub Node
Day Chart Memes
*
Impact Norway
Mundane Wheels
Synastry, Composite
Moon uncertain
Link*
–
Major
Known data
–––
Base
Composite + Transits 2021
–––
Pushers and Clowns Series
Pending
–––
---
~ | 2022-04-19 | 12:32 | Preliminary